From Cebu To Boracay By Land
From Cebu To Boracay By Land
Simply put, you cannot do it — not unless you use water transportation to carry your vehicle from island to island. But that's hardly driving — it's traveling by vehicle and boat. Note the map of the Philippines below (copied from here):
Boracay Island is obliterated by the orange dot just about in the centre of the map — it is just off the north-western tip of the large island of Panay.
In relation to Panay, Boracay doesn't even display on most maps of the Philippines — note (from here):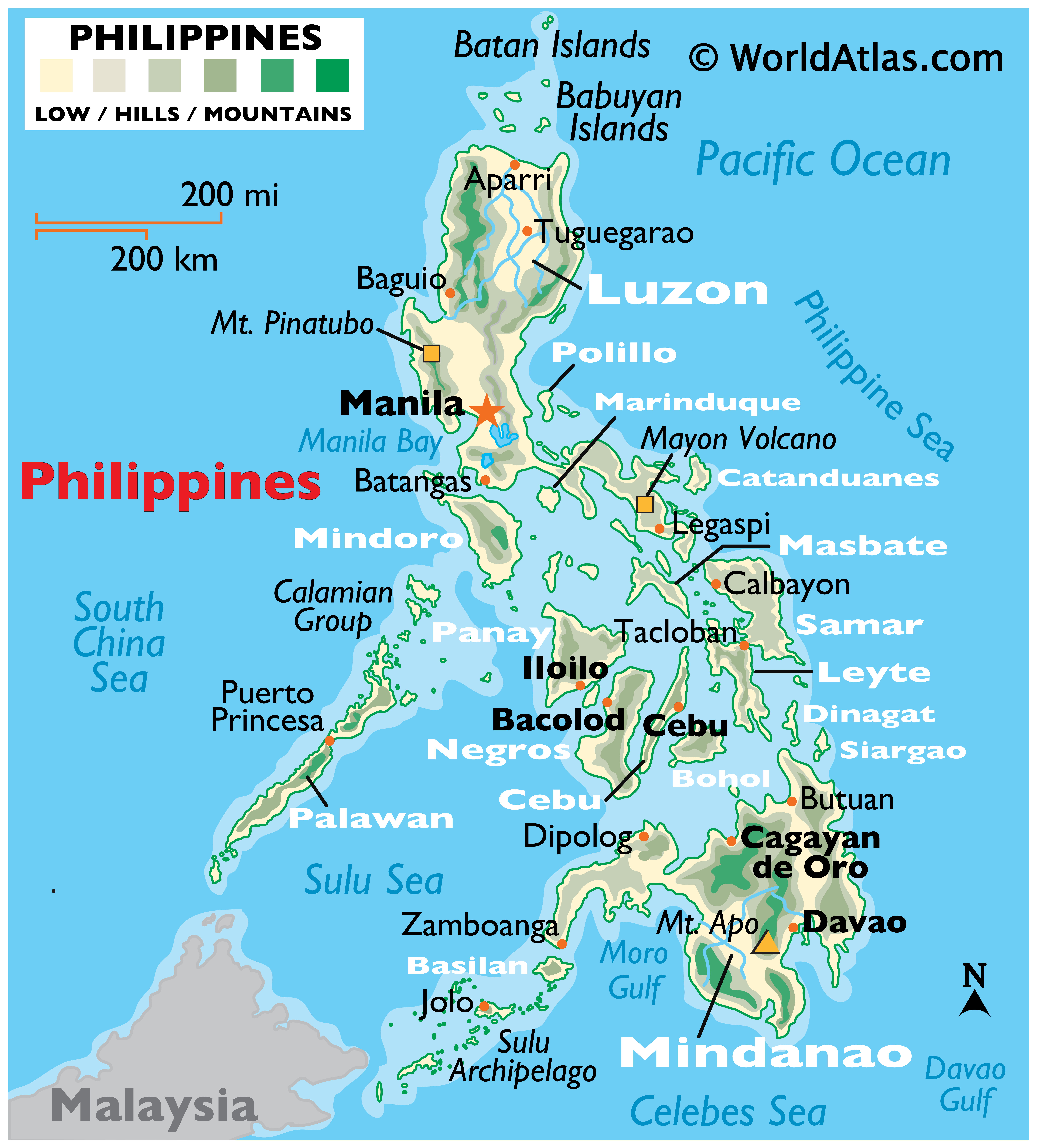 One explanation of the travel options is offered by Boracay Board: From Cebu to Boracay – Philippines.
With that settled, as a May 25, 2012, edit to this post, here are some current references to the region that you may find useful and/or enjoyable:
Boracay is a paradise that everyone should never fail to pay a visit. Although, you must really save money for the … Unfortunately, Caticlan Airport was not in good shape for landing at the time we chose to travel; so, we opted to land in Aklan. The choice to fly would entails draining a … There are multitudes of promos offered a year-round by Cebu Pacific, PAL, Zest Air and Airphils for Manila-Kalibo and Manila-Caticlan flights." ~ taken at Besties on the Go. This trip was …
Publish Date: 05/21/2012 6:38
http://gfootsteps.wordpress.com/2012/05/21/boracay-never-fails-to-amaze-me-day-1/
If you are flying to Caticlan with Cebu Pacific, make sure you fly in the morning. It is now prohibited to land in Caticlan in the dark, and Cebu Pacific, which is known for delays, reroutes to Kalibo on an almost daily basis…with …
Publish Date: 04/22/2012 8:01
http://asiatravelbug.net/2012/04/23/the-white-sands/
Cebu Pacific offered everyone in our flight free land transportation from Kalibo to Caticlan and everyone was so pissed! But we all took the land transportation anyways like we had any other choice. So instead of getting to …
Publish Date: 05/01/2012 3:59
http://www.itschrisnick.com/2012/05/summer-paradise.html
2 Nights Hotel Accommodation at Bohol; 2 Nights Hotel Accommodation at Cebu; 2 Nights Hotel Accommodation at Boracay; Daily breakfast for 6 days; Roundtrip airport/land and boat transfers in Bohol, Cebu & Boracay …
Publish Date: 05/09/2012 23:24
http://blog.inavtravel.com/2012/05/10/i-nav-travel-bohol-cebu-boracay-lagalag-package-2/
These are my first sight of the beach. Welcome to Boracay! So, if you find airfares to Boracay (via Caticlan or Kalibo) is expensive, you may try this route. Take a flight from Manila to Roxas City and travel by land to Caticlan. This way, you'll be able to save on airfare and visit Roxas City as well. …. Anakatira Cebu Art Exhibition: a beautiful marriage between b&w photography and painting · Con Tour Blog | A Photo and Travel Blogger, Philippines · Mind Museum …
Publish Date: 05/22/2012 6:45
http://www.pinoyadventurista.com/2012/05/how-i-got-to-boracay-from-roxas-city.html
You can also take a ferry boat from Cebu to Bacolod, then a land trip to Iloilo through a RORO, then Iloilo to Kalibo. Then land travel again from Kalibo to Caticlan. The more practical way is to take a taxi ride from Iloilo to …
Publish Date: 04/25/2011 23:15
http://cebuanddavao.com/2011/04/26/sea-travel-from-cebu-to-boracay/
Trip to Bohol_0001.wmv – Cebu Beaches. May 21st, 2012, boracay … With a land area of 4117.3 square kilometers, Bohol is the tenth largest island of the Philippines, and lies in the middle of the Visayas. Bohol is surrounded by other islands …
Publish Date: 05/21/2012 16:12
http://cebu.spotphilippineislands.com/2012/05/21/trip-to-bohol_0001-wmv-cebu-beaches-3/
Airport transfers. • Airport transfers in Manila • Roundtrip airport transfers in Puerto Princesa, Palawan • Roundtrip airport transfers in Cebu • Roundtrip land and boat transfers in Caticlan Tours. • Whole Day Tagaytay tour with …
Publish Date: 05/11/2012 21:55
http://blog.mangotours.com/2012/05/explore-philippines-in-13-days11-nights.html
This post is based on research since I haven't gone to Boracay yet. I'm planning to go to Manila and Boracay this year and hoping that the following guide can help me in my travel. The following guide can also hopefully help …
Publish Date: 03/01/2011 22:31
http://cebuanddavao.com/2011/03/02/air-sea-land-travel-from-manila-to-boracay/
Caticlan or Godofredo P. Ramos Airport – Only small body aircrafts could land in this airport. Airlines with flights to and from Caticlan are South East Asian Airlines(SEAIR), Cebu Pacific Air and Air Philippines from Manila, …
Publish Date: 03/13/2012 5:38
http://www.boracayresortbookings.com/how-to-get-to-boracay-island-resort/
Regarding the booking, I booked at Cebu Pacific from Manila to Caticlan since it's near Boracay Port. The land and sea transfers is also cheaper than being dropped off to Kalibo. And on are way back, I booked at Zest Air …
Publish Date: 04/30/2012 8:52
http://www.lovesimplefinds.com/2012/04/30/tickets-ready-lets-fly/
By Nestor P. Burgos Jr.Inquirer Visayas ILOILO CITY—Tourist arrivals on Boracay Island have surged by more than. … revenues also increased from P11.9 billion in 2009, P14.3 billion in 2010 to P16.7 billion last year. On March 23, budget carrier Cebu Pacific started its Kalibo-Hong Kong flights. … The passenger boat is expected to cut travel time from Kalibo to Boracay from an hour and a half by land travel to 45 minutes. Engineer Roger Esto, provincial planning and …
Publish Date: 04/30/2012 1:40
http://www.boracay.nfo.ph/more-tourists-went-to-boracay-on-1st-quarter-says-governor/
Buying cheap tax declared land and getting it titled – posted in Buying & Building Homes, Rental Property, Land, Etc.: I totally realize that buying untitled land is very risky, but it seems most remote farm land is only tax declared. … loaning money on the land per say but the CROP>.. now this land has two 25 year renewable leases and some have sold and re sold thier rights to FARM it ,, if you look at boracay its government land yet there are hotels on it.. so sometimes …
Publish Date: 05/05/2012 0:00
http://www.livingincebuforums.com/ipb/topic/49238-buying-cheap-tax-declared-land-and-getting-it-titled/
Robinsons Land Corporation – Your Dreams. Our Foundation. – Cebu Hotels and Restaurants. April 28th, 2012, boracay … Cebu Tourist Spot Destination. Posted in Cebu Hotels and Restaurants, Tags: Cebu Hotels, Developers, dreams, …
Publish Date: 04/28/2012 16:22
http://cebu.spotphilippineislands.com/2012/04/28/robinsons-land-corporation-your-dreams-our-foundation-cebu-hotels-and-restaurants-2/
Go to Cebu Pacific Website and book your flight from Manila to Caticlan. If you book early enough, it should be about $100 round trip. I recommend you travel light. Look at their website for how much pounds you're allowed.
Publish Date: 03/26/2012 16:11
http://www.sykoplayground.com/2012/03/26/how-to-travel-to-boracay-and-puerto-galera-from-angeles-city/
Only small bodied aircrafts could land in this airport. Flights serving on these airports to and from Caticlan are the South East Asian Airlines (SEAIR), Cebu Pacific Air and Air Philippines from Manila, Cebu and Clark.
Publish Date: 05/06/2012 23:33
http://www.theurbancity1.com/2012/05/boracay-island-beach-resorts.html
Boracay Condominium Classified Ads Philippines. Listings of Used Cars, Used Car, Cellphones, Computer, Laptops, Gadgets, Real Estate, Houses. Wholesale Autos Second Hand BMW, Mitsubishi, Nissan, Toyota, Classified Ads Philippines …
Publish Date: 05/22/2012 2:32
http://pinoydeal.ph/search/-3/posts/22_/133_Condos_Townhouses/139455_Boracay_Condominium.html
I even checked other options such as the RORO (land/ sea) and the ferry (sea), but my mom wasn't too keen on those. The Manila to Caticlan airfares from Cebu Pacific and Sea Air are already ranging from P7,000 to P8,000, …
Publish Date: 02/12/2012 4:14
http://www.foodplacebadtrips.com/boracay-trip-planning-02-transportation/
The trip from Cebu to Boracay gives you two options for transportation. You can either choose the more convenient yet more expensive option of flying or the cheaper but more complicated option of traveling by sea and land combined.
Publish Date: 06/15/2011 21:07
http://www.boracayinsider.com/from-cebu-to-boracay/
Took Cebu Pacific Air to Boracay, the journey was very long because of the transit at Manila International Airport. In order to get to Boracay Island, it was a journey of air, land and sea! It took us 13hrs to reach there. >.< …
Publish Date: 05/06/2012 7:57
http://purposefultraveller.blogspot.com/2012/05/travel-i-am-missing-boracay.html
International flights will then be able to land at Caticlan— a dream come true! For all my griping, I do still fly Cebu Pacific because of the reasons I mentioned—cheaper and more convenient. I believe that Cebu Pacific does a …
Publish Date: 02/17/2012 18:08
http://www.boracaygeekee.com/opinion-editorial/179-bizzare-qsituationsq-on-cebu-pacific-budget-flights.html
For reservations book online at www.flyseair.com or call SEAIR reservations at (632) 849-0100 or SEAIR Cebu at (6332) 2549337-38. For packages call SEAIR Leisure Escape Packages at (632) … "These aircraft are the most appropriate for the small runways of Caticlan, Palawan, and other destinations where bigger commercial airlines cannot land," said Avelino Zapanta, SEAIR president. "Our aircraft are aerodynamically designed in a way that it is capable of …
Publish Date: 03/24/2012 8:49
http://www.philippineislandstravel.com/cheap-flight-deals/boracay/
If you really want to get to Boracay and you're in Bantayan, you need to get to the Cebu Island first. You can then take either the sea and land trip to reach the Boracay Island. But the easiest way is to take the air trip. So the …
Publish Date: 05/13/2011 20:32
http://cebuanddavao.com/2011/05/14/how-to-get-to-boracay-island-from-bantayan-island/
Boracay. Passed by Cebu and visited friends and afterwards, Boracay was the next destination. I've been here before; only it rained when I finally had the chance to tour the island so I didn't see it in it's full glory. There were a lot of tourists and it was mainly because of the summer season. … Now I'm back in Cebu and I'll be living here for a month before I go back to the land of the Angkor. Enter your email address to subscribe for updates. Please don't forget to confirm …
Publish Date: 05/10/2012 11:54
http://soloflighted.com/side-trip-singapore-and-boracay/
Be aware that you could be wet when you arrive in Boracay because there's no piers where you can have a platform to land on. Your baggage can … From the Kalibo Airport, there are shuttle buses which can take you a ride to Caticlan and then when you reached Caticlan, you can now take the boat ride to the Boracay Island. From Cebu (by Bus/Ferry). By bus, Ceres Liner can serve you where it leaves Cebu starting at 5:00 a.m. for Bacolod City. From Bacolod, the …
Publish Date: 04/11/2012 5:50
http://www.theultimatecyborg.com/2012/04/11/summer-is-definitely-more-fun-with-nivea-sun-my-top-summer-wonder-is-boracay-2/
Invest in Cebu

Uploaded by rahj8786 on Mar 10, 2009
" the authority of the government emanates from the cebuano people and by the cebuano people. – Cebu Capitol, Capitol Hills Cebu City Built 1937 Under the Commonwealth Government of the United States of America."
——————————————————————–
Cebu is rich because we are proud and loved cebu so much and we are one united Cebu.
—————————————-
9 major cities that composes the metropolitan CEBU:
Cebu City
Mandaue City
Lapulapu City
Danao City
Bogo City
Carcar City
Naga City
Talisay City
Toledo City
—————————————-
Economy:
Cebu has the highest economic growth rate anywhere in the country and higher than that of the national capital region. Foreign investment Group make cebu Ranked number eight as a great Potential Investment Hub.
by the Finance Direct Investment (fDi) magazine of the Financial Times Group. Investment advisory firms tholons and the global services publication ranked cebu as the number one city for Business Process Outsourcing companies overtaking the three cities in india.
Cebu is also ranked as the Top ten Best asian Cities.
With over Five billion US dollars in annual revenue in our export industry alone. Cebu's Major Industries are Electronics / electrical equipment manufacturing, car manufacturing, gun manufacturing, shoe manufacturing, computers, metals and precision instruments, chemicals, industrial parts assembly, food processing, furniture, fashion accessories, gifts, toys and housewares (GTH), garments, stonecraft, shipbuilding, and mining. More than eighty percent (80%) of the Countries Inter Island Shipping are Cebuano owned Companies.
—————————————-
GDP:
Cebu Region
Population : 2,400,000
GDP: $15 billion
GDP: $9 billion (In Cebu City Alone)
GDP/Capita: $6,250.00 (Highest Standard of living in the country, GDP Comparable to Malaysia and Higher than Manila the National Capital Region)
National Capital Region (NCR Manila)
Population: 12,000,000
GDP: $50 billion
GDP/Capita: $4,166.00 ( means majority of the people has a low standard of living)
—————————————-
Crime Rate:
Cebu Crime Rate
0.96 per 10,000 people. (Comparable to NAGOYA JAPAN) 1 or 2 offenders / 10,000)
National Capital Region (Manila) Crime Rate
22.9 per 10,000 people.
—————————————-
Some prominent Cebuano Companies are:
JG Holdings, Digitel, Robinsons Land, Universal Robina, UIC, Gaisano Group of Companies, Aboitiz Group of Companies, WG&A, Cokaliong shipping lines, Gothong Shipping lines, Sulpicio lines, Norkis Group of Companies, Lhuillier Jewellers, Penshoppe, Oxygen, Loalde, Island Souvenirs, BO's Coffee Club, Julie's Bakeshop, Orange Brutus, Mother's Fried Chicken, Cebu Pacific Airlines, Sun Cellular, Wellmade Corporations, Uniherbs, SilkAir, Popcola, Sunsports, Island Paint Corporations.
—————————————-
Credits:
Nicom47
Bigfoot Entertainment
CIPC
Cebu Provincial Government
Cebu City Hall
For more info check out: http://www.techrevivals.com